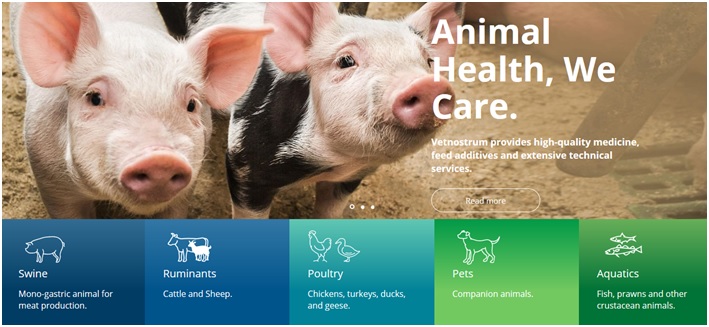 Vetnostrum aims
to provide effective, innovative and economic solutions to improve animal health by diverse product portfolio, excellent quality management and field studies.
Vetnostrum provides full market accesses to all types of channels in Taiwan and Asia Pacific, by leveragaing our diverse product portfolio, brand reputation, and highly motivated sales force.
Our mission is to protect animal welfare, food safety, environmental conservations by our robust technology and services.
We have more than 180 animal products registered in Taiwan and over 30 approvals in China, South East Asia, Latin America.
Taipei office: 11F, No. 181, Sec. 3 Min Chuan East Road, Taipei City 10541, Taiwan
Tel:+886-2-2718-6200
Taichung Office: 6F-6, No. 168, Anhe Rd., Xitun Dist., Taichung City 40765, Taiwan
Tel:+886-4-2462-1768
Hsinchu Plant: No. 290-3, Chung Lun Village, Hsinfeng, Hsinchu County 30422, Taiwan
Tel:+886-3-621-6688
E-mail:service@vetnostrum.com
Website:http://www.vetnostrum.com/en